We have been advised that further repairs are required to the water main line at the school district's Majagaleehl Gali Aks Elementary School located in Hazelton.  As a result, the school will be closing at 12:00 noon today, February 27, in order to complete further repairs to the water main line to the school.
The additional repairs will be completed this afternoon/evening and the school will be open tomorrow, February 28.
 School staff are contacting parents/guardians regarding today's school closure at 12:00 noon and informing them of the availability of early bus runs.  The regular bus runs will remain in place in the event parents/guardians cannot be contacted.
Parents/Guardians are asked to contact the School Principal should they have questions or require further information.
Katherine McIntosh
Superintendent of Schools
For your reading enjoyment, please find the second issue of the CMSD82 Innovates quarterly bulletin which shares innovative initiatives and projects within Coast Mountains School District 82.  To view the bulletin, please click on the link below:
CMSD82 Innovates Bulletin – June 6, 2018
This second issue features original and creative programs from schools across our district that strive to make a difference in the lives of our students.  We hope you will be inspired by these innovative and student-centered learning programs.
We encourage you to share the CMSD82 Innovates quarterly bulletin with students, families and friends.
The next quarterly bulletin of CMSD82 Innovates will be issued in September 2018.
Sincerely,
Katherine McIntosh
Superintendent of Schools
Dear CMSD82 Employee,
On March 23, 2018 SmartFindExpress performed an update which has led to some on-call employees receiving calls but being unable to connect to the system.
Included in the update is the following new feature as shared by SmartFindExpress:
We have a new option that is not turned on for your district.  The option will need the sub to only enter their pin, and there is a playback to verify what was entered.  This new option has helped reduce many invalid entry phone issues for the subs.
You will want to notify the subs that when the system calls they will just need to enter in their pin only.  The system will play back the digits received and then they can confirm or re-enter.
SmartFindExpress believes that turning on this feature will resolve the issues of on-call employees being unable to connect.
Important Notations:
Effective April 6, 2018 after morning call-out we will activate this feature.

Beginning the evening call-out on April 8 onward you will only need to enter your PIN and * to log in to SmartFindExpress
Should you experience any issues, please include as much information as possible (date, time, job number, nature of the issue) and email hr@cmsd.bc.ca. 
If you have questions or you require immediate assistance, please contact Richard Anderson, Automated Dispatch Help Desk Clerk at 250-638-4439 or 1-855-635-4931, Local 4439 between the hours of 6:30 a.m. to 2:30 p.m.
Sincerely,
Kyla Magnusson
Human Resources Officer
Dear CMSD8
2 Employee,
The second of two Curriculum Implementation Days for the 2017-2018 school year will be held on Friday, April 13.  These days are specifically dedicated to BC's redesigned K-12 curriculum.
The following Curriculum Implementation Day sessions have been planned in Hazelton, Kitimat, Terrace and Thornhill on Friday, April 13 … to view the program or "shape of the day" for these venues, please click on the links below:
Hazelton-Kitwanga K-12 Teachers – Hazelton Secondary School
Kitimat K-12 Teachers – Nechako Elementary School
Terrace-Thornhill-Stewart K-6 Teachers – NTETC
Terrace-Stewart Grades 7-12 Teachers – Caledonia Secondary School
Should you have further questions or require additional information, please contact your School Principal for assistance.
A friendly reminder that all teaching staff are expected to be in attendance in one of the full-day sessions.  Sign-in sheets will be on-site to document attendance.  Individuals not present at a session will not be paid for the day. 
Not unlike any other non-instructional day, part-time employees will be expected to attend the day at a rate consistent with that of their employment (if you are a .6 FTE employee, you are expected to attend for 60% of the day).  Individuals are more than welcome to attend a greater portion of the day on a voluntary basis if they so desire.  Teachers Teaching-on-Call are also welcome on a voluntary basis as desired.
CUPE members are welcome at the sessions, however, CUPE staff are responsible to their School Principal for activities of the day.
We also share the following link to the Student Learning Module package as pre-reading for the Computational Thinking presentations offered during the Terrace, Thornhill and Stewart sessions:
Student Learning Module Package – Computational Thinking
In addition, we share a link to the School-Based Collaboration Form for completion by teaching staff attending the Terrace, Thornhill and Stewart sessions for return to their School Principal during the session on April 13 prior to the lunch break:
School-Based Collaboration Form – April 13, 2018 CI Day
A special thanks is extended to the Curriculum Implementation Committee for their efforts and organization for this significant and important work for Coast Mountains' learners.
We look forward to inspiring and engaging with you on April 13!
Sincerely,
Janet Meyer
Director of Instruction, School Support
Last Friday, the B.C. government announced a change to BC's Family Day. Starting in 2019, BC's Family Day will move to the third Monday in February (instead of the second Monday of February).
In light of this announcement, the proposed 2018-2019 School Calendar was revised to reflect the BC Family Day date change effective 2019. As a result of this date change, the Curriculum Implementation Day scheduled on February 22 was rescheduled to February 15. The revised school calendar also reflects the June 21 National Indigenous Peoples Day, noting this is a Regular Day of Instruction.
Coast Mountains Board of Education School District 82 is seeking public feedback regarding the "revised" 2018-2019 Proposed School Calendar. If you have completed the initial survey, much appreciated if you could complete the survey again as it has been changed to reflect the revised school calendar information.
For your information and viewing, please find the "revised" 2018-2019 Proposed School Calendar and Backgrounder as prepared and presented by the School Calendar Committee, an all-partner consultative committee formed by the Board of Education provided with a mandate to guide the development of a school calendar for the 2018-2019 school year.
REVISED CMSD82 2018-2019 Proposed School Calendar
REVISED CMSD82 Proposed 2018-2019 School Calendar – Backgrounder
Public feedback is welcomed by February 18, 2018, by completing the revised School Calendar Survey (reference link below) or by forwarding your comments by email to carole.gagnon@cmsd.bc.ca, by fax to 1-888-290-4786, or drop off/mail to Coast Mountains Board of Education School District 82, 3211 Kenney Street, Terrace, B.C. V8G 3E9.
The "revised" School Calendar Survey is available for completion at:
https://www.surveymonkey.com/r/RevisedCMSD82SchoolSurvey
(please click on the link to complete the survey)
A summary of all responses and feedback received will be reviewed by the Board of Education. The revised 2018-2019 Proposed School Calendar will then be considered at the Regular (Public) Meeting of the Board to be held on February 28, 2018.
For further information, please contact Carole Gagnon, Executive Assistant at the Board of Education Office (250) 638-4401 or 1-855-635-4931, Ext. 4401.
Dear Parents, Guardians and Caregivers,
For your information, provided below are the bus schedules/routes for Hazelton, Kitwanga and area reflecting revisions effective September 25, 2017 to Routes #21, #22 (new run), #24, #25, #26 and #28.  Also provided is a letter sent home on Thursday, September 21 for the information of parents, guardians and caregivers from our Director of Facility Services, Travis Elwood regarding the bussing changes and a reminder for families whose children require bussing services to ensure the 2017-2018 Bus Registration Form issued last school year is completed and submitted to their School Principal.

Hazelton-Kitwanga Bus Schedules-Routes – 2017-2018 School Year
(Note … the above link provides one PDF file providing all bus routes/schedules)
CMSD82 Letter to Parents-Guardians re Bussing Update – Sept. 21, 2017
Should you have questions or concerns regarding bus routing and scheduling the following steps are suggested:
Contact your child's/children's School Principal.
Contact the Operations Manager at Diversified Transportation bus lines at 250-635-7042 or 1-855-538-5287 for out of town.
CMSD82 News Release – Hazelton Secondary School Fire Incident – April 12, 2017  (PDF Format)
A fire occurred at our Hazelton Secondary School this morning, April 12. The fire originated in the washroom area located in the A wing section of the school. Students and staff were quickly evacuated from the school. The fire was contained immediately with no injuries sustained to students or staff.
The Hazelton Fire Department attended to the fire and the Fire Marshall cordoned off the A wing section of the school for the completion of an investigation and related fire remediation. Fire damage was limited to the washroom area where the fire occurred. The impact to the air quality of the school will be assessed this afternoon to ensure safety prior to the return of students and staff.
Hazelton Secondary School students are being dismissed from school for today. Parents/guardians have been contacted to pick up their children at the school where students are waiting in the non-cordoned area of the school. Bussing arrangements are in place to transport students home.
Hazelton Secondary School's principal and vice principal will be connecting with students, parents/guardians and staff via their school email distribution list and the school's Facebook page noting that students should expect to be in attendance at school tomorrow, April 13. Some areas of the school may remain closed, but we expect the majority of the classroom areas will be open.
Our appreciation is extended to the Hazelton Secondary School staff for their quick and efficient response in handling this incident.
Katherine McIntosh
Superintendent of Schools
CMSD82 News Release – Evangeline Maitland Passing, CMSD82 Employee  (PDF Format)
It is with heartfelt sadness that we share the passing of school district employee, Evangeline (Evie) Maitland on March 13, 2017 following a courageous battle with cancer.
A long-term employee, Evie held a teaching position at New Hazelton Elementary School at her passing, a position she assumed in September 2013.
Evie joined the school district in September 1997 assuming a teaching position at South Hazelton Elementary School. Her first assignment was teaching a Grade 1-2 Class. Throughout her years with Coast Mountains School District, Evie held various teaching positions at our schools in the Hazeltons including Majagaleehl Gali Aks Elementary, New Hazelton Elementary and Hazelton Secondary Schools.
Evie was much loved by her students and school faculties. Her leadership, inspiration, motivation and generous personal efforts contributed significantly to student achievement and success in the Hazeltons.
Our deepest condolences and prayers are extended to Evie's family. Their sadness and loss is shared by her many friends and colleagues within the Hazelton communities and the school district family.
We also share a touching farewell celebrating Evie's life written by Dr. Jane Smith, a Teacher at our Majagaleehl Gali Aks Elementary School … to view, please access the following link:
Evangeline Maitland Farewell – March 13, 2017
Evie will be dearly missed by all, especially by those people who had the privilege to know her personally.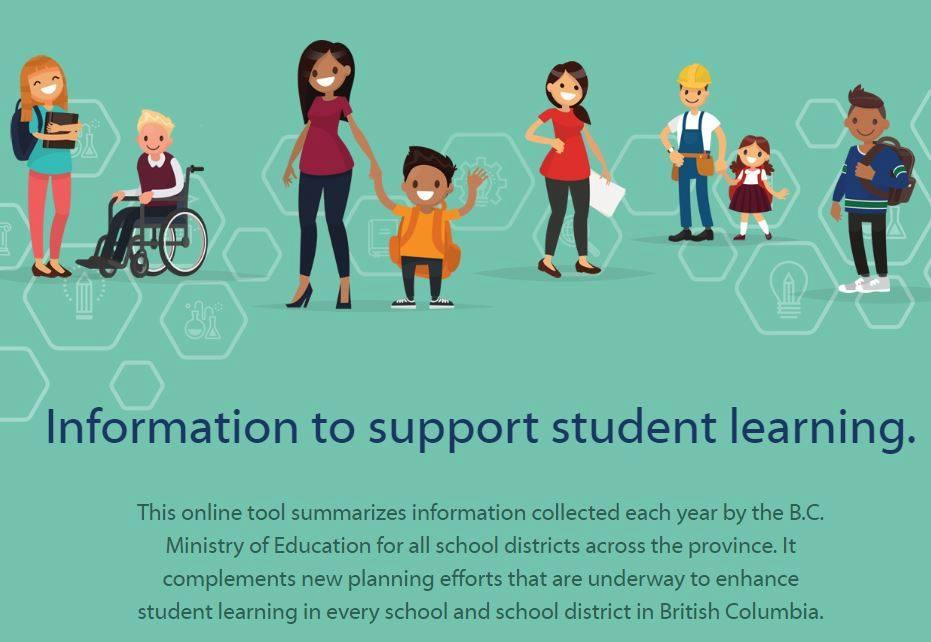 BC's Ministry of Education announced a new smartphone and tablet-friendly website will provide interactive information about student outcomes to make it easier for parents and students, as well as school districts, to understand and use information that will enhance education for students.
By this fall, information about individual schools will be available to give parents a better understanding about how their child's school is doing across the district.  Right now, access to measures of student success, such as grade to grade transitions, completion rates, foundation skills assessment results and other outcomes, in all districts is available to compare the data with the latest trends and provincial averages.
On the website, school district by school district reports are now available in easy-to-read and interactive formats, giving parents a better understanding of their school district's strengths and areas for continuous improvements, as well as B.C.'s education system as a whole. Information contained in these reports also includes community and student demographics, post-secondary and career preparation, as well as student satisfaction.
The website works on smartphones, tablets and computers of all kinds and is easily accessible at:
www.bced.gov.bc.ca/reporting/systemperformance
For more information, please reference the following Ministry of Education's announcement:
https://news.gov.bc.ca/releases/2017EDUC0091-001075
Additional information will be forthcoming to school districts from the Ministry of Education regarding this exciting and helpful initiative for students and parents.
Homestay Families Wanted
(Article in PDF Format Poster)
Coast Mountains School District 82 and Northwest Community College are seeking homestay host families for international students.  Students from around the world are choosing to study in beautiful and pristine northwest BC and you can play an important role in making their Canadian experience truly unforgettable.
High school and college students want to experience high-quality, personalized education while experiencing local culture, discovering the great outdoors and enjoying the safety and friendliness of smaller communities.  Help us show them our true regional hospitality by becoming a homestay family.
Living with local families helps international students immerse themselves in Canadian culture and helps in developing English language skills.  By opening your home to a student, they will experience daily life in Canada, while introducing your family to the unique opportunity to learn about another culture.  It is also the beginning of what often becomes a life-long, cross-cultural friendship.
Students will need both short and long-term homestay experiences.
For more information about becoming a host family for the International Student Homestay Program, please visit the school district's new International Student Program website at:
Or contact our Director of Instruction for School Support, Janet Meyer at (250) 638-4480 or study@cmsd.bc.ca for assistance.